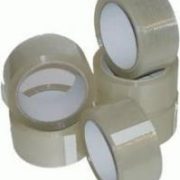 1 Roll of Clear 48mm x 66m Standard Packing Tape Sellotape
Our best selling and most popular tape for sealing cartons, packages and other uses. Standard core packaging tape is ideal to use with a tape dispenser. 1 Roll, 48mm x 66m.
Call 0121 558 6600 to get a quote
Out of stock
Description
Additional Information
Product Description
Ideal for sealing cartons and packages. Standard core ensures that this clear packing tape fits on all standard tape dispensers. For continuous sealing and comfort we recommend to use this tape together with our hand held tape dispenser gun. Clear tape is ideal for all general packaging purposes. Strong adhesive adheres to most surfaces and sealed goods will stay intact during transit.